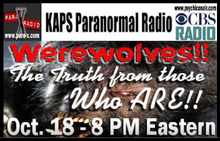 Werewolves: The Truth From Those Who Are
Two members of the therian community are interviewed by Dave Jones on the KAPS Radio, part of the Para-X Radio Network [1]. KAPS stands for Kentucky Area Paranormal Society [2]. The members, Savage and NightFireWolf, were interviewed on the 18th October 2009.
A copy of this episode was recorded and is available on Youtube along with a transcript. [3]
References
Ad blocker interference detected!
Wikia is a free-to-use site that makes money from advertising. We have a modified experience for viewers using ad blockers

Wikia is not accessible if you've made further modifications. Remove the custom ad blocker rule(s) and the page will load as expected.